We've come to depend on our mobile phones so much that imagining our life without them is impossible. A study commissioned by Nokia suggests that we are so dependent on our mobile phones that we check them every six and a half minutes. For most of us, looking at our phone is the first thing we do each day, when it wakes us up as our alarm.  In case of the mobile phone, human beings have actually become slave to one of their creations.
For a second, imagine the unspeakable happened. You lost your phone. A second ago it was in your pocket but now it has vanished off to some fairy tale, or misplaced during your busy day. Maybe it's just under a pile of books, or maybe it's already in the hands of someone who found it. Wherever  it may be, all you want is to do is get it back.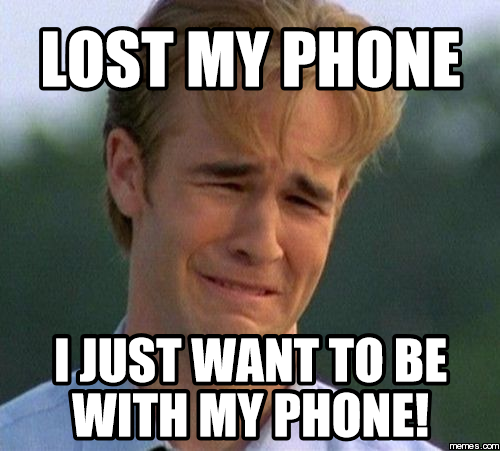 Thankfully, there are plenty of ways to get a hold of your missing piece of heart. If it's a smartphone (or even a tablet) running iOS, Android or Windows, chances are good it already has the software needed to track it. If not, there are apps you can remotely install to find your phone.
We have scoured the internet and prepared a guide on how to find your phone or similar device, including the old fashioned way if you still own one of those flip phones. But before delving into those, here are a couple of things that you can do before your phone goes missing.
No one plans to lose their mobile phones, of course, but it happens. You will have to be vigilant and wary.
Note your IMEI number as soon as you get a new mobile phone.
Make sure you have a PIN code or fingerprint lock or some kind of security set up on your smartphone's lock screen.
They're not unbreakable but these barriers are your phone's first line of defense against someone who might pick up your device and not want to give it back—and without them your email and social networking apps are wide open.
Now, if your phone actually goes missing, then:
Smartphones
All of the three major smartphone platform providers, i.e. Apple, Google and Microsoft, now come natively with phone retrieval technology. You can even manually install a "Find My Phone" app from their app stores. Usually, the way these apps work is through the account associated with your device. For Android devices, it's your Google Account. For iPhone users, this is your iCloud/Apple account, and for Windows Phones, this is your Microsoft account. All three allow you to remotely lock and wipe your phone, ring the phone and set up special messages to alert whoever finds it.
Here is a more detailed look on how each of the three different OSes work in order to find your smartphone.
Android
Android supports not only Google's own service for finding and managing your device remotely, but also a number of third party apps. The easiest to use is Android Device Manager, which is built right into your Android smartphone through Google Play Services. Most devices running Android 2.2 or later should be able to use this feature. It's as easy as searching "Where is my phone" on Google to start looking for your smartphone.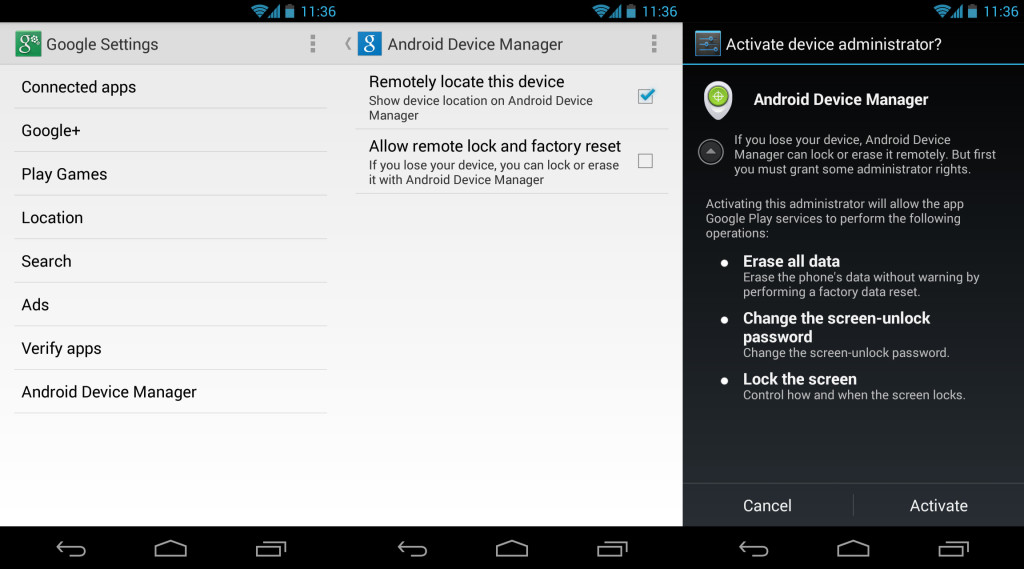 While you can do some configuring ahead of time for Android Device Manager, the service should be automatically available in the event you lose or misplace your smartphone. It will use Wi-Fi or GPS to help you hunt it down.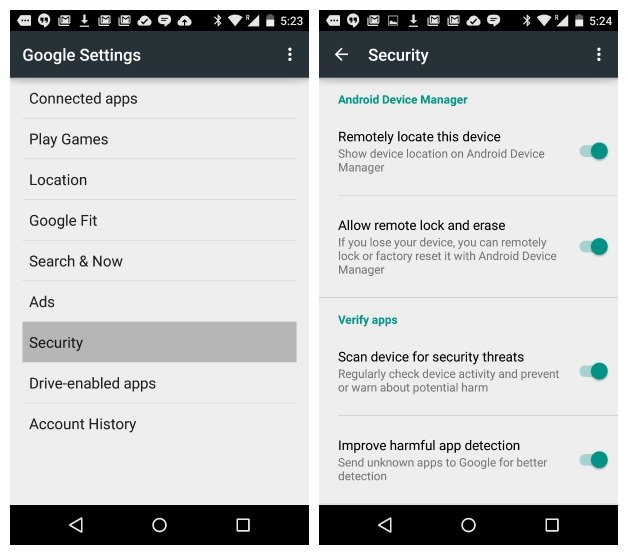 If you can't find your smartphone, you can also wipe it to prevent sensitive information getting into the wrong hands. Your device will of course need an Internet connection and powered battery to communicate with you.
Third party apps like Lookout Plan B and Cerberus Anti-theft can help you remotely install something on your phone to help you find it. They provide even more information on the whereabouts of your phone. They offer a bunch of additional features such as more granular control on how you track your device, screenshots of what the device is doing, photos from the camera to possibly catch the culprit, and other, more detailed notifications that Android Device Manager doesn't offer. Rooting your devices can provide with even more features to prevent someone from resetting or turning off the device until you can recover it.
If you own a Samsung device, there's also a reactivation lock feature, allowing a stolen or lost device to be rendered unusable unless your Samsung account details are entered to confirm its safe return. This even includes preventing factory resets, which Android Device Manager and other services cannot as easily prevent.
iOS
The best (and the only) way to get your iPhone back is through Apple's native feature Find My iPhone. The included app exists on every iOS device, and can display your missing device on a map to help you easily locate and manage it. You'll need a computer or another iPhone with the Find My iPhone app to deploy this feature. Unfortunately, these features are only available when your phone is powered on and connected to the Internet.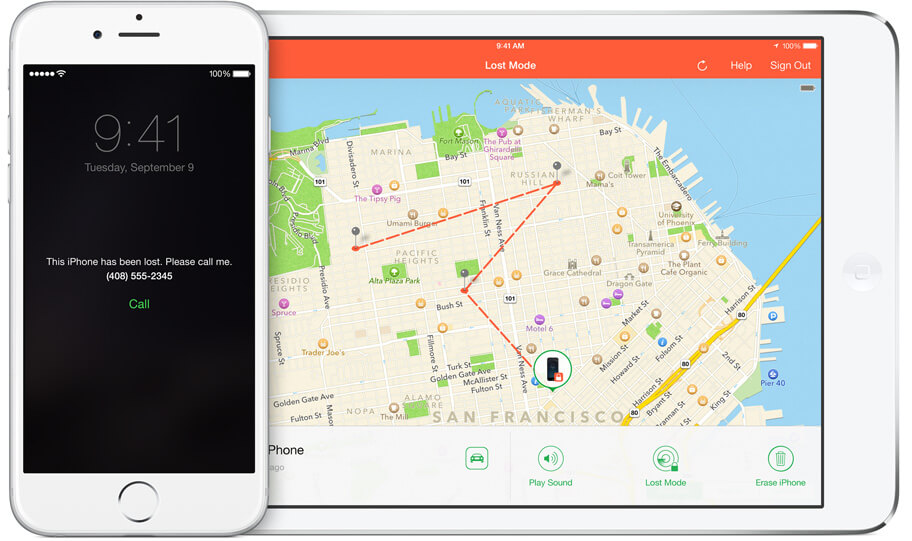 Simply log onto iCloud and open the Find my iPhone feature. The Apple service will locate your phone on a map and give you the option to play a sound, send a message to your phone with "lost mode," or erase the contents of the iPhone. All of this can be done without any additional configurations.
Find my iPhone is also able to locate your Mac, iPods, and iPads, too. It's an incredibly effective tool for tracking down just about any iOS device.
Windows
Windows Phone owners, don't fret. If you've misplaced your smartphone, you too can recover it with the help of a built-in service. Microsoft has included a lost phone feature right into Windows Phone 8.1 or later, allowing you to easily find the location of your phone or set off its ringer. Just like all the other features, it requires no additional configurations after adding your Microsoft account, but will only work if your device has power and is connected to the Internet.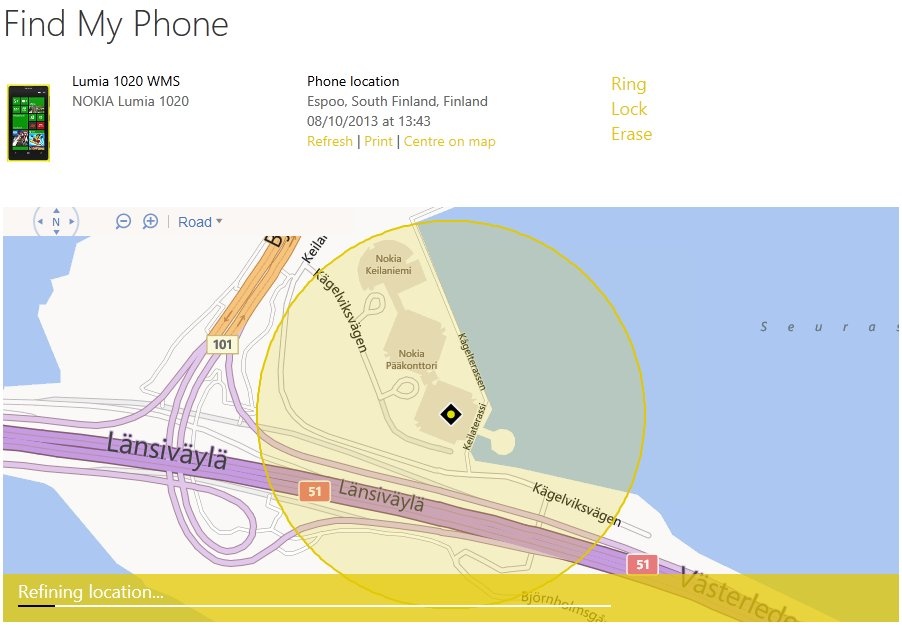 All you need to do is go to Microsoft's devices page, and you'll see all your phones and tablets available to search through the location service. You can even remotely lock and wipe devices that you think might have fallen into the wrong hands.
Others
If you are not a smartphone user and you need an option to locate your phone, then we've got you covered as well. We are not smart phone-ists (LoL). These steps can be used by any phones, including smartphones.
Call your cellphone. It might sound obvious and I can imagine many people going "Thanks, Captain Obvious" but sometimes we tend to overlook the obvious. Try to locate your phone through plain old human detection. If your phone's truly lost and in someone else's hand, then they are likely to answer (if they are good samaritans).
Retrace your steps. Do an extensive visual search. If you couldn't hear a ring or vibration when you call it, don't be quick to assume that your phone is somewhere far away already – the battery could be dead.
Leave a text. If you believe your phone has been stolen, or someone possibly found your phone, send a text message to your phone with your contact info and, if you can, offer a reward. You can use many online services to send free text messages, such as com.
Alert you service provider. If you've lost hope of finding it, contact your network service provider and let them know your phone is lost. Ask if they offer a GPS locating device. If not, ask them to block services to your phone to prevent any possible fraudulent activities.
File for an FIR (First Report Information). You will need the IMEI (International Mobile Equipment Identity) number of your phone. It is unique to all phones. A dual SIM phone will have 2 of these. It can be found at the back of your device's packaging or inside settings. If you are unable to find the number, you have to launch your phone app and dial *#06#. This will give the IMEI number of your device. Note this down somewhere safe. This is the first thing anyone should do when they get a new phone. Then, go to the police station in your area and file an FIR for a stolen or lost phone. The procedure will take some time so patience is essential. You have to provide the IMEI number of your phone while filing a police complaint and then your service provider (NTC/Ncell) uses this IMEI number to track your phone. Also, make sure that you block the SIM card that was being used in the handset. This will force the thief to replace the SIM, which will help the authorities find his/her identity.
Prevention is better than cure
In the future, the single most important thing you can do is to apply caution at all time with your phone. You can never be 'too careful'. To prevent anyone from getting to your personal data if your phone is lost or stolen, set a passcode. Not only does it make your device a less attractive target for cell phone theft, it means no expensive international calls can be made at your expense; your personal information will stay personal no matter who ends up with your cell.
Set a complex password that you'll remember but thieves won't guess and set your screen to auto-lock within five minutes.
Backing up your data is also a great way to ensure you don't lose important contacts, photos, music and other information.